HIGH QUALITY ANTI-CUT GLOVES
Anti cut levels 1 – 5 , Smart Phone Touch and Anti-Heat Features

Superior Non-Gloss Coating

Excellent dexterity

Breathable and Durable

Less than 5% Over Penetration

Seamless knit
ANTI-CUT LEVEL 1
FP-FIT
Ultra-stretchable liner provides excellent comfort
Highly breathable coating that easily allows air in and perspiration out
Superb durability permits extensive re-use
Shape memory increases comfort of fit and conforms to hand

FP-GRIPPER
Contour coating maximizes grip and non-slip effect
Super-flexible liner provides excellent comfort
Highly breathable coating that easily allows air in and perspiration out
Superb durability permits extensive re-use
Shape memory increases comfort of fit and conforms to hand

FP-TOUCH
All fingers include touch sensitivity means no need to remove glove
Super-flexible liner provides excellent comfort
Highly breathable coating that easily allows air in and perspiration out
Superb durability permits extensive re-use
Shape memory increases comfort of fit and conforms to hand

ANTI-CUT LEVEL 3
FP-300
EN Cut Level 3 protection and supremely comfortable fit
Highly breathable coating that easily allows air in and perspiration out
Superb durability permits extensive re-use
Shape memory increases comfort of fit and conforms to hand

ANTI-CUT LEVEL 5
FP-500
Equipped with the added cut-protective and warmth as well as soft, wearable fit
Contour coating produces non-slip effect
Abrasion resistance from enhanced Nitrile Rubber coating far superior to standard coating
Highly breathable coating that easily allows air in and perspiration out
Shape memory increases comfort of fit

ANTI Heat
FP500-AH
Protect hands from heat or flames and provide EN Cut Level 5 protection
Effective in many different environments and scenarios
Abrasion resistance from enhanced Nitrile Rubber coating far superior to standard coating
Shape memory increases comfort of fit

FORM PACIFIC GLOVE FEATURES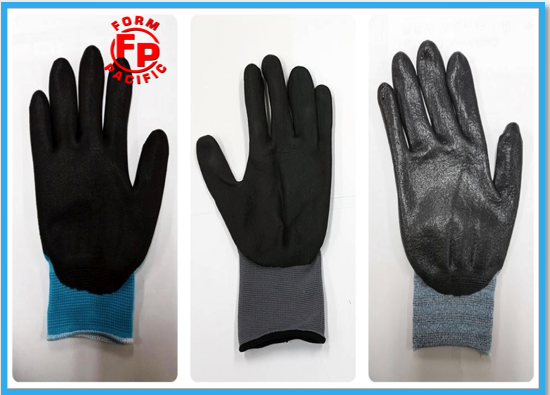 NON-GLOSS COATING : Form Pacific Gloves go through proprietary foam coating technology and use the finest latex imported from Japan
Advantage
Proprietary foam means excellent no-slip gloves
No soap residue remaining on gloves following manufacturing process
Greater flexibility in the coating allows for improved dexterity and sensitivity
Disadvantage
Using soap as a stabilizer, it will foam and slip when working in a humid environment. Which causes irregular fit.
Benefit : Foam-coated non-gloss gloves are higher quality and still cost competitive
COATING PENETRATION RATE : Inner coating penetration percentage area less than 5%
Advantage
Only when the infiltration ratio is less than 5%, as in our products, it helps to absorb sweat by bonding the palm area and the fiber, and makes the user feel comfortable
Disadvantage
If the coating penetrates more than 5%, it is uncomfortable to wear due to contact with the coating area, and the odor is caused by the mixture of sweat and rubber.
Benefit
Our unique coating technology provides strong durability and comfort to users by strongly bonding the liner and coating parts without penetration.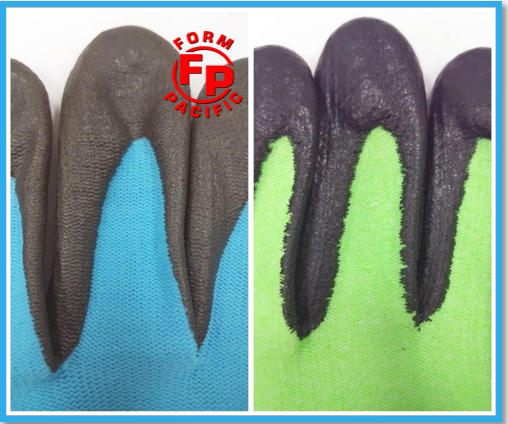 CLEAR AND PRECISE COATING : Form Pacific clean and precise coating resulted in strong adhesion and excellent durability
Advantage
Our superior coating technology improves the durability by increasing the adhesion with fiber and acting as fiber reinforcing agent
Lack of peeling makes the gloves safe from contamination of the workplace
Disadvantage
If the coating line is not good, peeling occurs, which causes not only durability deterioration but also contamination of work environment due to peeling foreign matter.
Benefit
Can be used in precision work environment sensitive to foreign substances.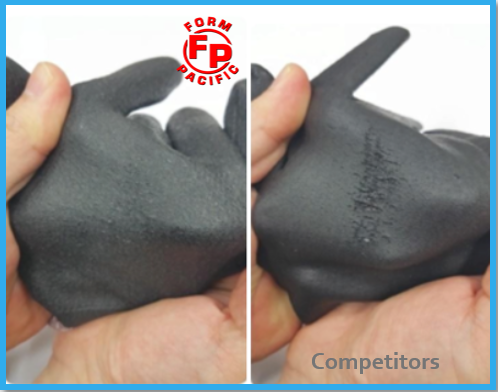 BREATHABILITY AND DURABILITY : Precise control of open cell coating technology, ensuring air permeability with alternative coatings prevents rapid durability deterioration
Advantage
Our superior latex compounding and foam mixing technology provides precise cell control, achieving excellent durability and good ventilation
Disadvantage
Poor coating technologies and permeability decreases durability and increases deterioration.
Benefit
Our coating technology balances ventilation and durability providing better performance and product value to users.
General & Professional Gloves