MAKES OLD TOOLS NEW AND NEW TOOLS BETTER!
Re-Grip is the simple way to add a new grip to any handle, lever or tool within seconds and with no mess. Re-Grip non-slip grip not only provides protection but enhances the safety and comfort of any item it is added to.
WHAT CAN YOU RE-GRIP?
Re-Grip is a truly diverse product. The uses are nearly endless. It can be installed on thousands of tools, levers, sporting goods, construction equipment and applications Including:
Tools: Axes, Crowbars, Hammers, Rakes, Ratchets, Shovels, Trowels, Wrenches
Recreation: Bats, Bikes, Fishing Poles, Golf Clubs, Hockey Sticks, Paddles, Racquets
Construction Equipment: Jackhammers, Levers, Drills, Sledges, Wheelbarrows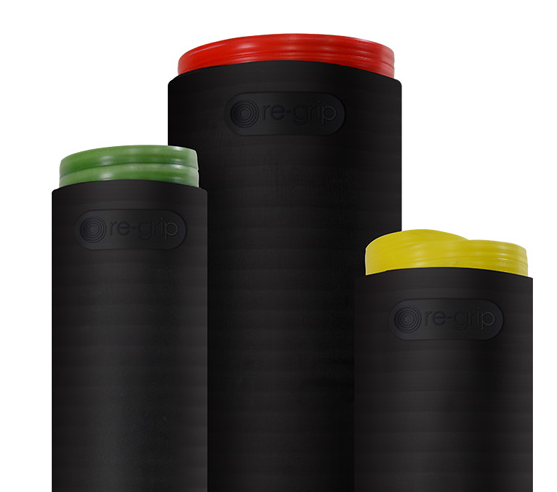 RE-GRIP PRODUCTS
No gluing or heating, Re-Grip® uses strong, durable material to provide a safe and comfortable non-slip grip to any tool, handle, lever and more. With its patented design, Re-Grip® is easy to install. The elastic grip is held extended by an inner coil, forming a tube that fits over the handle. The user simply pulls a tab to unwind the coil allowing the grip to shrink and compress securely to size.
Re-Grip offers three different sizes. The range in diameters are easy to identify with color-coded inner coils. Simply select the Re-Grip with the smallest size diameter that will fit over your tool, handle or lever.
With an MBA, serious copywriting chops and a fabulous sense of humor that comes across in her writing, Janet has undertaken copywriting for such corporate giants as Hewlett Packard, Barnes & Noble, Macy's and numerous Fortune 500 companies.
RE-GRIP PRESS
There have been numerous articles written about Re-Grip within multiple markets including Tool & Hardware, Lawn & Garden, Industrial, Electrical, Sporting Goods, Fishing and Game/Outdoors, USG, Automotive, Nuclear and Utility, and all types of DIY media outlets. It also has appeared on the Home and Garden Network channel and the DIY TV show "I Want That". Re-Grip has also won many awards for its innovation and safety
MORE INFORMATION